BANISH FAT BOOST METABOLISM WORKOUT
SCHEDA BANISH FAT BOOST METABOLISM WORKOUT
Obiettivo: Dimagrimento
Programma: 30 giorni
Durata: 40 minuti
Sottotitoli: NO
Link acquisto: Amazon
Offerta
DESCRIZIONE BANISH FAT BOOST METABOLISM WORKOUT
Inizia a bruciare calorie con la più tosta delle trainer televisive americane Jillian Michaels. Con questo nuovo workout di 40 minuti studiato appositamente per portare il tuo cuore in fascia lipolitica, brucerai tantissime calorie provenienti dai grassi. Come tutti i programmi di home fitness puoi eseguire questo workout a casa, e non avrai bisogno di alcuna attrezzatura.
Consigliamo di integrare questo workout solo cardio, con un workout total body, come ad esempio il No more Trouble Zone, sempre di Jillian.
Il workout include il classico riscaldamento, 7 circuiti di esercizi e l'ultima sessione di stretching.
Nel riscaldamento e in ogni circuito, sono previsti 5 esercizi da 30 secondi ognuno, da ripetere per due volte.
Riscaldamento: Arm circles, Toe touches, Arm swings, Jogging. Ripeti.
Circuito 1 (Kickboxing): Squatting side kicks on right side, Alternating punches while squatting, Squatting side kicks on left side, Jab-cross-hook-elbow boxing move, Alternating front kicks. Ripeti.
Circuito 2: Burpies (drop to plank position and jump up), Plie hops, Punch-hop combination, 180-degree jumps, Single-leg hops. Ripeti.
( Se sopravvivi a questo circuito puoi fare qualsiasi cosa nella vita )
Circuito 3: (Old school Calisthenics): Butt kicks (jogging with heels hitting gluts), High knees (jogging with knees high in front of body), Jumping jacks, Oblique crunches on right side, Oblique crunches on left side. Ripeti.
Circuito 4 (Floor work): Mountain climbers (striding while in plank position), Lay face down on floor and lift chest and thighs simultaneously, Pike crunches, Oblique twists, Walking plank. Ripeti.
Circuito 5 (Kickboxing): Swing kicks, Uppercuts (upward punches while squatting), Back kicks, Jab-cross punches while squatting, Knee crunches. Ripeti.
Circuito 6: Jump squats, Cross-country skiing, Scissor kicks, Side skaters, Standing mountain climbers. Ripeti.
Circuit 7: Mobiles (twisting jumps), Standing pikes (standing ab crunch), Knee crunches on the right side, Knee crunches on the left side, Jump rope (without actual rope). Ripeti.
Streching per gli ultimi 5 minuti
OPINIONI BANISH FAT BOOST METABOLISM WORKOUT
Tommy: "Io amo questo workout. Ho iniziato a farlo insieme a banish ed ho perso 10 cm nel giro di un mese! Grande!"
CALENDARIO BANISH FAT BOOST METABOLISM WORKOUT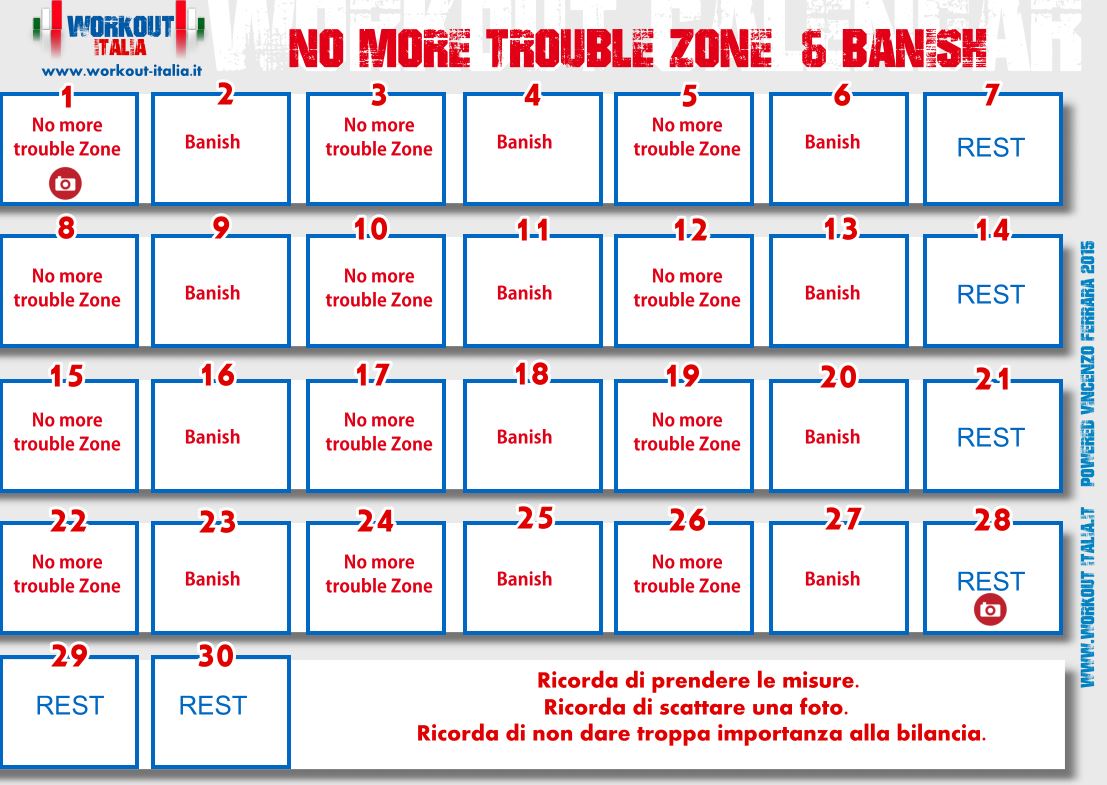 VIDEO BANISH FAT BOOST METABOLISM WORKOUT